"The old atmosphere has been kept by decorating the walls with sheaves, sprayed out to make golden circles of grain. There are twisted ropes of straw, called simmons, knotted at intervals with bunches of coloured cork floats. Lighted candles are fixed into holders, with veronica twigs. The corn and oats smell malty, and transform the hall into something different and more mysterious. The harvest home is the focal point of the island year."
Christine Muir's account in Orkney Days captures the atmosphere of the harvest home, held in the Memorial Hall which was donated by the island's laird after the First World War to mark those who were lost. It brings together the people of the island with family members and friends from further afield, with each year a guest speaker and local and visiting musicians providing traditional music to dance to. The whole range of ages is there, from the oldest to the youngest in the island.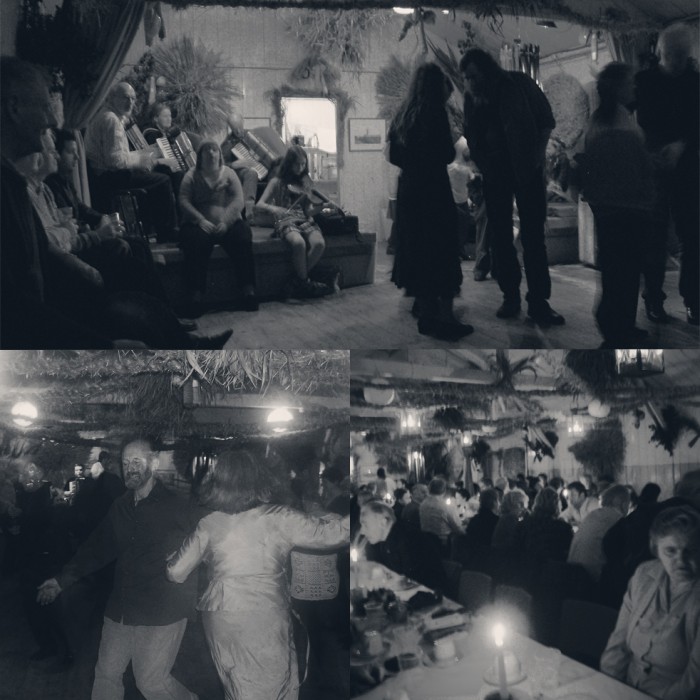 The Burns Supper at the end of January takes place in the new Community Centre, and the decoration is this time in the mood of the poet and his time, from woven tartan rugs to paper red roses, and the haggis is piped in and addressed and the Immortal Memory given.
In each case, a team of helpers works to prepare the hall and the food, and then to clear everything away on the following afternoon.
More about the life of the island can be found by visiting the New Kirk, where a large and growing archive of photographs and text shows people and places over a century and more.
The long summer days are a time to be outdoors for farm work, but the winter nights are something to look forward as well, as Christine Muir describes.
"By the time the cattle are cleaned out, the first stars are in the sky, and the light shining through the red kitchen curtains looks welcoming. These winter nights have so much stark contrast, the bleak cold outside, and the enveloping warmth from the kitchen range, where the kettle is always boiling, and the old clock ticks."
Winter is also a time for two great island tradition: for reading and for visiting and sharing stories.
The words of Lord Birsay, opening North Ronaldsay's new Community Centre in June 1981, sum up the essence and the importance of the island.
"It is a place where one can get nearer to the Orkney of old than anywhere else."